The original question I found myself considering was
"When is a discussion not a discussion?"
Answer: When 'discussions' are promotional or informing but do not invite an exchange of ideas or points of view.
In contributing to LinkedIn Groups on Leadership I have been noticing how often posts are made without any expectation of engagement with the audience.
Leadership can be like that. When one acquires the title and the platform of a leader but is not interested in a two way dialogue.
The trouble with this is that you never know if your followers understand what it is you want to happen, you nev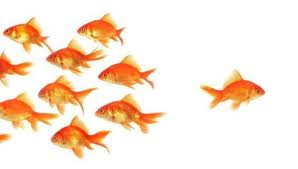 er know if they have heard you at all, worse still you never know whether you truly have any followers.
What is a leader without followers?
The quotes below are extracted from a paper on the nature of leadership
"Recognising the limits of any individual leader creates a requirement for responsible followers to compensate for these limits, and is best served through constructive dissent. Followers are willing to dissent from their leader if the latter is deemed to be acting against the interests of the community.
Yet it should also be self-evident that an individual can have virtually no control over anything or anybody-as an individual. Indeed, we have known for a long time that leaders spend most of their time talking, and not actually "doing" anything.
In effect, leaders might pretend to be omnipotent, to have the future of their organizations and its members in their hands, but this can only ever be a symbolic control, because leaders only get things done through others. In short, the power of leaders is a consequence of the actions of followers rather than a cause of it."
Keith Grint, Defence Leadership professor, Cranfield, UK
http://iveybusinessjournal.com/topics/leadership/leadership-ltd-white-elephant-to-wheelwright
If the aim of leadership is to create new leaders, and these are likely to come from the ranks of followers, direct, effective, two way engagement is a critical leaderhip skill.
Who have you reached out to today and how effectively have you listened to what they have to say?